COVIDSafe Info
Capitol Theatre Tamworth, Tamworth Regional Entertainment Conference Centre (TRECC) and Tamworth Town Hall are all NSW Health regisitered COVID Safe Venues.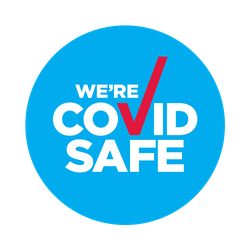 Safe Environment
Entertainment Venues is committed to providing a safe event environment in accordance with the guildlines as set out by NSW Government for Cinemas, Theatre, Concert Halls and Entertainment Venues. The health and safety of our audiences, staff and performing artists is our focus and as a registered COVID Safe venue, we have a COVIDSafe Plan and comprehensive operational plan in place to keep you safe.
Current NSW Health Regulations in place until 16 July 2021 stipulate that venues must operate under the 50% seating capacity ruling. All programmed shows/performances after 16 July 2021 are proceeding as scheduled.
Checking In
In accordance with the latest NSW Government Health regulations, as of 12 July 2021 all customers/patrons must check in and check out when entering or exiting our venues either via the Service NSW App or written registration where the app is unavailable.
Facemasks
Under the current NSW Government Health regulations, the wearing of facemasks at our venues is mandatory. Masks will be available at the venue if you do not carry one. Children 12 years and under are exempt from wearing a facemask but are encouraged to wear masks where practicable. For more information regarding the wearing of masks CLICK HERE.
Purchasing Tickets
Tickets are available on our website or by contacting the Box Office on 02 6767 5200. Where possible we encourage you to use electronic tickets, however if you are unable to do this, make every effort to collect your tickets from the Box Office prior to the day of the performance to reduce the need for queuing on event day.
On The Day of the Performance
The Box Office and the Doors to our venues will open 30mins to 1 hr prior to the event to enable patrons to grab a refreshment and then head straight to their seats, thus reducing crowding in the foyer.
Customers are advised that when you arrive at our venues you can assist the entry process by having your tickets ready for checking or scanning. Please locate them in your phone or wallet prior to getting to the doors and make sure your brightness is turned up on your phones.
Snacks and Bar Still Available
Snack Bar and Bar services will still be available. Food and drinks cannot to be consumed in our venue foyers. Patrons must be seated in their allocated seat and can only remove their facemask to consume food and drinks. Once finished, patrons must continue to wear a facemask.
Find out more about our current conditions of entry and what you can do and what we are doing to make your experience a safe one CLICK HERE